Welcome to Mystique Homes, Inc.
The Right Builder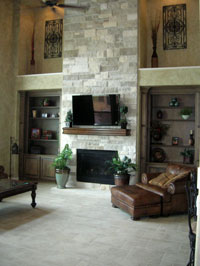 Building a home is one of the most intimidating and expensive undertakings most people will ever attempt. Selecting the right builder is often one of the most difficult and always the most important step in that process. Mystique Homes is a custom homebuilder here to make your homebuilding journey as smooth as possible.
Experienced Builders
In business since 1996, Mystique Homes will work with you every step of the way. We will help you find your dream location, design the home with you, build the home exactly the way you want it, and provide a third-party warranty on our work for 10 years.
Custom Homes
We primarily build custom homes, but our services are not limited to solely that. Mystique Homes also works on commercial projects, remodels, and additions in the Santa Fe, Alvin, League City, Friendswood, and Pearland, Texas areas.
Mystique Homes Inc.'s simple
pricing
is consistently lower than other builders, but our service and quality is always the best in the field. If your considering building a custom home anywhere throughout Southeastern Texas,
contact us
, and we'll discuss exactly what Mystique Homes can do for you.
---
Serving the Texas areas of Santa Fe, Alvin, League City, Friendswood, Galveston County and Pearland.